Happy New Year, everybody!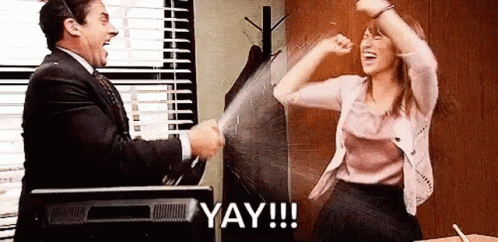 We did it!!! We've been through this mess of a year and we're still here! Does that mean anything? Yeah, that we're strong enough to get through any bs.
Now, we're going to step into 2021 with CON-FI-DENCE. Everything isn't going to be miraculously fine, but we can be better and confident in our abilities and our powers. Know your worth and love being yourself, kids!
Anyways, enough with sappy, silly new year messages. It's time to get to business. I'm having goals to talk about and goals to complete this year. Will I be able to complete them all? I don't know, but here's where the dumb over-confidence factor comes in.
Now, let's get into my 2021 goals!
· Read 50 books
This is my Goodreads Reading Challenge for the year. This was the number for 2020 and I managed to do it so I think it will work just as well for me in 2021. And I'm trying to not pressure myself too much. But I will actively be trying to exceed 50 books because I'm competitive like that.
· Finish all the review copies I currently have
This past year I have been lucky enough to get review copies from authors. And I'm so grateful about them and really want to get to them. So I'm making a priority this year do finish the three review copies I currently have.
· Read at least one Own Voices book per month
I've been meaning to read more diverse, Own Voices books for a while. And I did an okay job with it in 2020, but I can do better. As I've said in previous posts, I think it's important to give authors from marginalized groups a chance to tell their story and get new perspectives. I want to learn more and live more through these books.
So I'm going to keep track of this in my monthly reading wrap-ups and smash this goal because I know I can.
· Finish 5 series
This is one of the harder goals I have for myself because I'm incredibly bad at finishing series. But, as I've said in the beginning of the post, we are going to be confident this year. (Also, I'm going to do an update post with all the series I need to continue so look out for that!)
· Reduce my Physical TBR (To Be Read pile)
A challenged I carried over from 2020. My physical TBR is currently 48 books long. It's not such a big number, but if I continue to buy books, it's going to be a mess. And I'm really excited to read the books I own.
So, the official goal is just to reduce it. By the end of 2021 I shall have less than 48 books. The unofficial goal – and I'm not making it official so I don't put pressure on myself – is to cut it in half. I want to have only 24 books on my physical tbr by the end of this year. I don't know if it's going to be manageable, that's why I'm not making it an official goal, and I don't do it I'm going to wallow in sadness. But I want to keep this idea in the back of my mind.
· Participate in Readathons/Reading Challenges/Reading sprints/Read-a-longs
I want to be more involved with the bookish community, participate more in things.
Last year I participated in the Magical Readathon hosted by G at the Book Roast on Youtube and I had so much fun! Because of it I've read 8 books in one month, which is the most I've read in a month ever. So if she decides to host it again, rebranded to not be Harry Potter themed because that's what she said she was going to do I will surely be participating. (And if anyone knows/has some cool readathons they will participate in, let me know, please!)
This year I also discovered MelReads who is an amazing booktuber and also does reading sprints. I haven't got the chance to participate in one of them yet but I really want to try.
These are only two things I'm thinking of participating in this year but a lot more opportunities could come up and I really want to try out more things.
· Have a better blogging schedule
I did pretty well most of the year being consistent with posting, but I still had months where I barely posted anything and have taken unexpected hiatuses. I don't want that to happen anymore. Of course, if I feel like I need a break, I will take one but I don't want to just disappear for month.
· Write at least 1 Review per month
This is a goal I had for last year too and I failed. I really want to review more books in depth and I really don't understand what's keeping me. Maybe just the average books. But this is something I really strive to do in 2021 with my blog.
· Write more discussion posts
This is something I want to do, but I find it hard. It's hard to come up with ideas for discussion posts and bring relevant arguments and not repeat yourself and/or others. But I feel like I should try to make overall just more original content and something that sparks a discussion in the comments.
· Interact more with the community
In the bookish/blogging community I found some really great people that have amazing content and some of them I can truly call my online friends. And I want to talk with them more, not just in the comments under our posts, but overall, about all type of bookish topics.
I also want to widen my horizons and find more blogs to follow and more people with incredible content. So, basically, do more blog hopping. Overall, I just want to be more open and communicative. Tho I'm an introvert so we'll see how well that's going to go.
And, since we're talking about amazing blogs, here are 10 yes, I did try to limit myself to 10, if not this list would we kilometers long book blogs I enjoyed reading in 2020:
Again, Happy New Year! I hope you are all having a great day!
What are some goals you have for 2020? Do you plan to participate in any readathons/reading challenges?
Tell me in the comments!